Edward A. Kenfield, 2018 President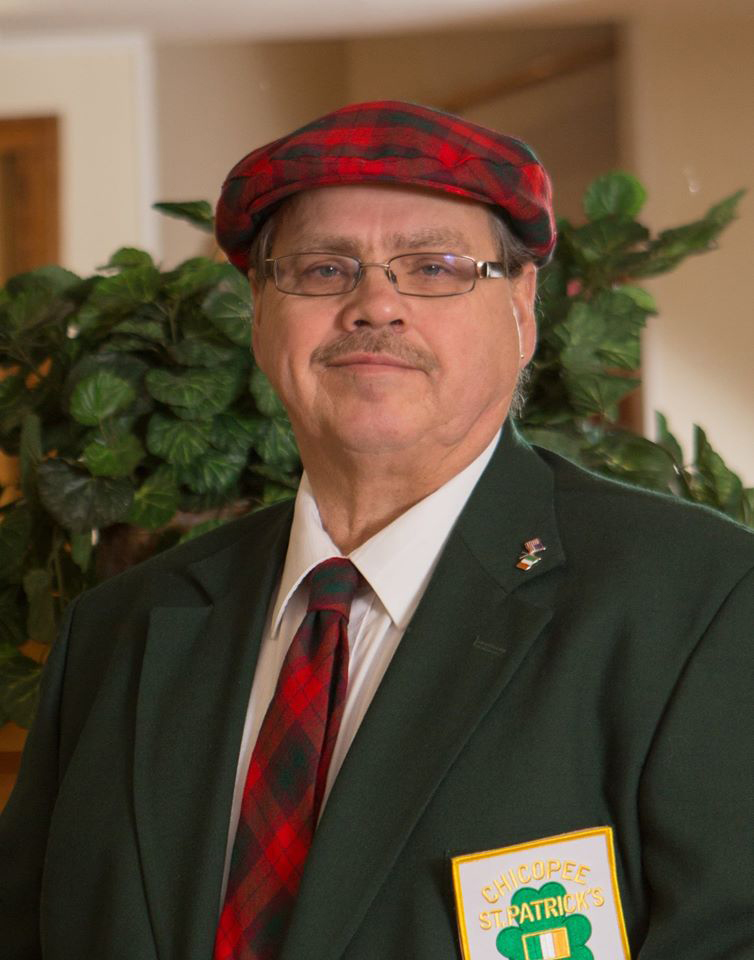 I was born in Flint, Michigan and moved to Holyoke Mass with my family when I was 10 years old. Then I moved to Chicopee when I was in my 20's where I have lived since. I have been married to my wife Theresa for more than 25 years. We have 2 daughters Dawn and Tabitha, 2 sons in law plus our pride and joy, our granddaughter, Makenzie who is 14 years old. I am currently employed as a truck driver for Sweeney Transportation in Chicopee, Mass.
I joined the Chicopee St. Patrick's Parade Committee 13 years ago. Some of my duties included being a member on the float committee and also float chairman and co-chairman. Our float committee has won multiple awards including 1st place open in Holyoke and won 4th place national through Victory Corps. I have also been a member of the contest committee, a Board of Director and helped on any committee where needed.
I have been a volunteer at the VA hospital in Northampton. I have helped out on with projects with the Disabled American Veterans and Auxiliary. I am an avid hunter for deer during hunting season when I have the time.
---
Laura McCarthy, 2018 Parade Marshal
Laura McCarthy will lead the Chicopee contingent in the Holyoke St. Patrick's Day Parade on Sunday, March 18, 2018.
 McCarthy, an elected assessor in the City of Chicopee for over 20 years,  has been a member of the Parade Committee since 2016.  Self-described as an "Irish Catholic Democrat", she has served on numerous boards and committees that involve legislative action, health care, schools, and democratic politics. The daughter of Regi Sullivan and James McCarthy, she is a life-long resident of the city.  She has participated in parade committee events since 1998 with her late husband, Stephen Waldron, and their son, James "JJ", who will accompany her on parade day.
 McCarthy practiced law in the City with former Chicopee mayor Michael Bissonnette from 1992 to 2004, served on the Board of Aldermen as an alderman-at-large, and worked as a research analyst for the Joint Committee on Commerce and Labor in the Massachusetts State House.  In addition to serving as a member of the Parade Committee, she is a member of the Massachusetts Association of Assessing Officers, Chicopee Bar Association, and serves as the Ward 7 chairperson for the Chicopee Democratic City Committee.
 McCarthy is a 1982 graduate of Comprehensive High School, a 1986 graduate of the University of Massachusetts, and a 1991 graduate of the New England School of Law.  In reference to this honor, she said, "I am overwhelmed by this honor and look forward to an exciting year."
---
Marvin J. Hill 2018 Jack Woods Award Recipient
Originally from Flint, Michigan, the ninth of eleven children, Hill attended Northern High School and then enlisted in the Air Force where he was stationed in Greenland and then Westover Air Force Base.  It was there that he met his late wife, Irene, and settled in Chicopee. Together they shared a daughter, Kathleen, married to Rich Niemiec; and a son Michael, married to Lili Aramali.  Hill also has five grandchildren, Thomas, Carly, Persephone, Maxwell and Samuel.
 Hill is a third degree and Life Member of the Knights of Columbus Council #69, where he has enjoyed volunteering through the years at the family picnics, spaghetti suppers and bingo nights. He has volunteered with the Connecticut Special Olympics for fifteen years and for FIRST Robotics through International Fuel Cells (a division of United Technologies where he worked for forty years prior to retirement).  He has volunteered for the Red Cross and has donated a total of over thirteen gallons of blood. Hill was very active with Boy Scout Troop 132 for many years and is proud to note that his son is an Eagle Scout.  He was an active member of the former Assumption Parish and is now a parishioner of Holy Name of Jesus Parish.  Hill is an active member of the Moose, Tiger AC, and Eagles 404 clubs in Chicopee and loves to fish, hunt and watch his grandchildren play sports.
In addition to his long list of community activities, Hill has been an active member of the Parade Committee for 17 years, where he has served on the ball committee, helped to build the Colleen's award-winning float, and volunteered to be the "unofficial" photographer.  He has thoroughly enjoyed his participation over the years and was both surprised and honored to have been chosen for the 2018 Woods Award.  He looks forward to the committee's many events and activities leading up to the Holyoke St. Patrick's Parade in March.
---
Exclusive Car Service, Inc., owned by David White, 2017 Atkinson Award Recipient
The Atkinson Award was created to honor the late George and Buddy Atkinson, who were founding members of the committee, and is given each year to a person (or business) that is not a committee member, but has supported its functions and events. This year's recipient is Exclusive Car Service, Inc., owned by David White.
White and his wife Carol live in South Hadley and have three children and seven grandchildren. In 2006, he established Exclusive Car Service, which is headquartered at 460 Race Street in Holyoke. The company operates limos, sedans, SUVs, vans, party and mini-buses within the New York City – Boston – Albany triangle, specializing in weddings, proms, airport and cruise transfer, and all special occasions. Licensed by the states of MA and CT, as well as US Department of Transportation, it is proud of having its own in-house staff and a wide range of diverse clientele.
The company has also been a generous supporter of the Chicopee St. Patrick's Parade Committee. Colleen Contest Coordinator Brenda Guiel fondly acknowledged that Exclusive has provided transportation to the Colleen and Court to various events and on parade day for 10 years.
"Their expertise, professionalism, and attention to detail has made our young ladies feel like royalty, and we are so thankful to David and Exclusive Car Service for their dedication and continued service to our committee."
The sentiment is apparently mutual, as White affirmed:
"Our company, staff, and I enjoy working with the Parade Committee and other similar organizations supporting our youth and our future. I wish them all the best of luck."
---
2017 Colleen and Court
---
2017 Scholarship Award Recipients