Mary O'Brien Rodowicz, 2019 President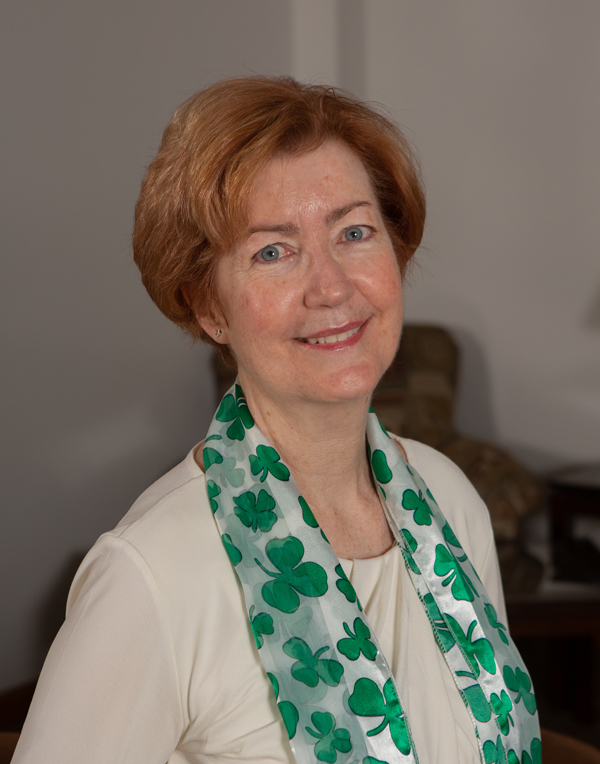 A native of Boston's North Shore, Mary O'Brien Rodowicz, daughter of Rosemary and the late Leo O'Brien, grew up in an Irish-French Catholic family, where St. Patrick's Day was celebrated every year. After graduating from Simmons College (now University), she moved to western Massachusetts to attend the University of Massachusetts. In 1983, she married Joel Rodowicz, a native of Chicopee, and has lived in the city ever since. Shortly after settling in the area, she began going to the Holyoke St. Patrick's Day Parade, eagerly looking forward to seeing the famous "CHICOPEE" banner pass by each year!
Mary and her husband raised two children: Brian, now a pharmacist in Livonia, MI, and Kate, a grant administrator for the Harold Grinspoon Foundation in Agawam, and an artist. In 2008, her daughter entered the Colleen Contest, and was selected as a member of the Court. Later that year, Mary joined the Chicopee St. Patrick's Parade Committee. Since then, she has served on a number of subcommittees, including those that organize the Colleen Ball, Candidates' Tea, annual committee Mass and Scholarships. She has also coordinated the publicity since 2011. She was elected Vice President in 2018, and President in 2019.
A Registered Dietitian Nutritionist (RDN), Mary recently retired from the Department of Veterans Affairs after 39 years of service. She is a student of the Irish Language, and enjoys traveling, especially to Ireland.
Mary emphasizes that being a part of the Chicopee St. Patrick's Parade Committee is a family affair. Her husband Joel serves as volunteer photographer at many events; daughter Kate recently joined the committee; and son Brian runs in the Holyoke St. Patrick's Race each year. Referring to her committee colleagues, she states, "It is an honor to serve as Committee President. I work with an amazing team of volunteers who put their heart and soul into making our contingent shine on parade day and throughout the year. I look forward to marching with them once again on March 17th."
---
John "Jack" and Eileen (Corridan) Kelly, 2019 Parade Marshals
John "Jack" and Eileen (Corridan) Kelly have been named Parade Marshals, and will lead the Chicopee contingent in the Holyoke St. Patrick's Day Parade on March 17, 2019.  Well-known to the parade committee and community, the Kellys have been married for 48 years and are residents of Chicopee. They have a daughter, Megan (Michael) Gamelli.
The Kellys have been involved with the Parade Committee for many years. Jack, a native of Hungry Hill, Springfield, is a Navy Veteran, and recently retired from the US Postal Service.  He joined the Parade Committee in 1994, subsequently serving in many capacities, including as President in 2003 and Woods Award recipient in 2011.  Eileen, a native of Chicopee, graduated from Elms College and taught at Holy Name Elementary School for 34 years, and also worked as a substitute teacher in Chicopee parochial schools. Though not a parade committee member, she coordinated the Colleen Contest for seventeen years, and also was a past recipient of the Atkinson Award. Committee involvement has always been a family affair, as her father John Corridan was Parade Marshal in 1981, and her brother Brian, in 1994. Proud of their Irish heritage and commitment to their family, faith, and community, the Kellys are both humbled and overjoyed by the honor of serving as 2019 Marshals.
---
Michelle Liswell Zimmek, 2019 Jack Woods Award Recipient
Michelle Liswell Zimmek has received the Jack Woods Award.  Named after one of the founding members of the committee, it recognizes an individual who has actively served ten or more years on the Committee. Liswell Zimmek has served in a number of leadership positions during her tenure, including as Membership Co-chair, on the Board of Directors, and currently as Secretary.   She helps to coordinate the committee's social media presence and most of its events.  Her involvement with the committee, however, goes back years as her family, including her parents and brother, were active members, and she always played a supporting role, even before she officially joined.
Liswell Zimmek also volunteers her time with other organizations, most notably with the Chicopee Fest of All, Inc.  She is a lifelong resident of Chicopee, along with her husband John and daughter Briana, who will march alongside her in the St. Patrick's Parade. When contacted about receiving this award, she reflected on her love of giving back to the community to help others, never expecting anything in return. She is most appreciative of being selected for this honor.
---
Daniel Mashia, 2019 Atkinson Award Recipient
The Atkinson Award was created by the Parade Committee to honor the late George Atkinson, who was a founding member of the committee, and his son, George "Buddy" Atkinson Jr., and is given each year to a person or organization that is not a committee member, but has supported its functions and events. This year's recipient is Daniel Mashia.  For the past thirteen years, he has provided the live music for the Colleen Coronation Ball and at other of the committee's services.
Mashia lives in Chicopee and is the current Grand Knight of the Fairview Council Knights of Columbus Council #4044.  He is the Music Director at Immaculate Heart of Mary Church in Granby, but also has worked as an organist and accompanist for St. Anne and St. Rose Churches in Chicopee, St. Elizabeth Church in Ludlow and Our Lady of the Cross Church in Holyoke.  He is the Music Director for Starlight Youth Theatre and has worked on musicals with the South Hadley Community Theatre, Wilbraham Summer Youth Theatre, Granby Arts Project, Theatre Guild of Hampden, and many other theater groups.  He was the Scoutmaster of Boy Scout Troop 424 in Willimansett for many years and volunteers each year as an Assistant Scoutmaster for National Youth Leader Training at the Horace A. Moses Scout Reservation. Mashia is currently a Senior Manufacturing Engineer at L3 KEO in Northampton and taught mathematics at Chicopee Comprehensive High School for 12 years, where he still returns each year to accompany their spring musical. Upon receiving news of being selected
for this award, he responded: "I enjoy working with the Parade Committee and other organizations supporting the youth of our community.  I wish them all the best in the years to come."
---
Michael Croteau and Matthew Turgeon, 2019 Bill Meara Award Recipients
From time to time, the Committee presents an award to a member or members of the community who performed an act of selfless courage, bravery or heroism, known as the Bill Meara Award. This year, the committee has chosen Michael Croteau and Matthew Turgeon, who are being honored for pulling a father and son from the frigid waters of Nashawannuck Pond in Easthampton.  The incident occurred on February 7, 2018, when Croteau and Turgeon were ice fishing on their day off.  Though they had no lifesaving equipment, their quick action saved the lives of the victims, who were later released from
the hospital. Croteau, a graduate of Chicopee Comprehensive High School, is a lifelong resident of Chicopee.  He has been a member of the Chicopee Fire Department for 10 years.  He is an Emergency Medical Technician and Certified Emergency Medical Dispatcher.  He enjoys spending time with his eleven year old son, Jacoby, with whom shares his love of hunting and fishing. Turgeon is also a graduate of Chicopee Comprehensive High School and a lifelong resident of Chicopee.  He has been a member of the Chicopee Fire Department for the last 3 years, is an Emergency Medical Technician and Certified Emergency Medical Dispatcher.  He is the proud father of eight year old Amberlee, with whom he enjoys spending time.  He is an outdoor enthusiast. Croteau and Turgeon were recently awarded the Citation for Meritorious Conduct at the Massachusetts 29th Annual Firefighter of the Year Awards Ceremony for their heroism.
---
2019 Colleen and Court
---
2019 Scholarship Award Recipients