Arnold Craven, 2017 President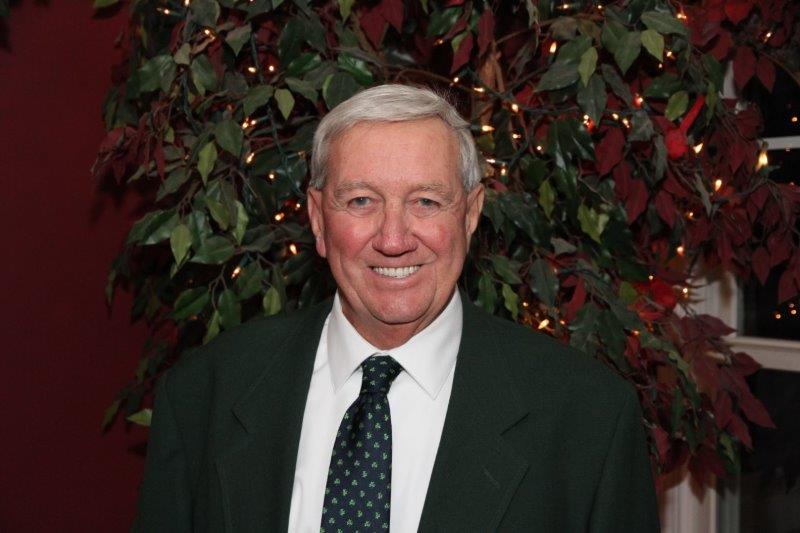 Born and raised in Springfield, MA, Arnie "Butch" Craven moved to Chicopee in 1966 where he has lived ever since. He served his community professionally by working as firefighter on the Chicopee Fire Department for 32 years, his last 7 years on the department as an inspector in Fire Prevention and retired as a Lieutenant in 2007.
Craven served his community as a volunteer for many organizations including; The Knights of Columbus 4044 where he was Grand Knight in the year 2005/2006, past Faithful Navigator of the Bishop Joseph McGuire Assembly #2670 in 2009/2010, and was manager of the Member's Lounge while serving on the Board of Directors for the Home Association. He is presently the Clerk for the Board of Directors Castle of Knights. He is a current member of the Galaxy Community Council at Westover Airforce Base where he helps with the Airshow and the family picnic for the troops. He is also a current member of The Moose and The Tigers Clubs. He has been a member of The Chicopee St. Patrick's Parade Committee since 2009 where he has served on the float committee and as Vice President in 2015.
Craven has three children: Ann Lee of Monson, Brenda Payette of Chicopee, and Carla Butterfield of Westfield. He has four grandchildren: Nathan, Alex, Michael, and Georgia. He is engaged to Sandi Rodrigue. They live in Chicopee.
---
Kathleen A. Ryan-Balakier, 2017 Parade Marshal
Kathleen A. Ryan-Balakier has been named Parade Marshal, and will lead the Chicopee contingent in the Holyoke St. Patrick's Day Parade on March 19, 2017. A 30+ year city resident, Ryan-Balakier has been an active member of the parade committee since 2009, serving on many of its committees, most notably coordinating the annual Contestant's Tea event.
A retired elementary school teacher, Ryan-Balakier is currently President of Alpha Chapter of Delta Kappa Gamma, an international organization of woman educators. She is a member NSTA (National Science Teachers' Association) and the MTA (MA Teacher's Association). In addition to her volunteer work with various groups, she is a communicant of St. Stanislaus Basilica, where she serves as Eucharistic Minister. She enjoys reading and traveling (especially to Ireland!) and spending time with family and friends, many of whom will accompany her as she marches through the streets of Holyoke on parade day.
Ryan-Balakier is a native of Springfield, the oldest of five children of the late Dick and Maggie Ryan. She has been married to George Balakier (also an active parade committee member) for over 30 years, and her daughter, Meghan, represented Chicopee on the Colleen's Court in 2008. When informed that she had been chosen as 2017 Marshal, Ryan-Balakier was stunned, and most appreciative:
"The honor of being chosen as Parade Marshal, representing our City of Chicopee in the 2017 St. Patrick's Day Parade, is a humbling experience that tugs at my heartstrings with pride. I am full of excitement and gratitude at the opportunity to lead the Chicopee contingent through the streets of Holyoke on March 19th. I will make our city proud!"
---
John Raymond Beaulieu, 2017 Jack Woods Award Recipient
John Raymond Beaulieu has received the Jack Woods Award. Named after one of the committee's founding members, it recognizes an individual who has actively served ten or more years. In addition to being its 2016 and 2009 president, Beaulieu has dedicated much of his time to ensuring the continued success of the Chicopee St. Patrick's Day Parade Committee. He is also active in the Holyoke Parade Committee and its Road Race Committee.
A dedicated member of the community for many years, Beaulieu has served as youth director for the Knights of Columbus Council 4044, President of the Chicopee Comp Friends of Football Booster Club, member of the Pioneer Valley USO and Westover Galaxy Council, member of the Knights of Columbus Council 4044 and the Bishop Joseph F. McGuire Assembly 4th Degree.  In 2013, when he was Operations Manager at Interstate Towing, he received the Patriot Award from the Employer Support of the Guard and Reserve (ESGR), in recognition of the company's support of employees who continue to serve in the military. Beaulieu also received the Paul Harris Fellow Award from the Rotary Foundation in 2015.
Beaulieu is employed by the City of Chicopee as Chief of Staff to Mayor Richard Kos. He resides in Chicopee with his wife, Patty, also a parade committee member. He has three children: Miranda, Shane and Ryan; and one beautiful granddaughter, Everly. He was humbled and honored when informed that he had received the Woods Award, and looks forward to the privilege of marching alongside its namesake, Jack Woods, in the 2017 parade.
"When you surround yourself with good people, good things will happen" he said, reflecting on the committee's many achievements over the years.
---
Exclusive Car Service, Inc., owned by David White, 2017 Atkinson Award Recipient
The Atkinson Award was created to honor the late George and Buddy Atkinson, who were founding members of the committee, and is given each year to a person (or business) that is not a committee member, but has supported its functions and events. This year's recipient is Exclusive Car Service, Inc., owned by David White.
White and his wife Carol live in South Hadley and have three children and seven grandchildren. In 2006, he established Exclusive Car Service, which is headquartered at 460 Race Street in Holyoke. The company operates limos, sedans, SUVs, vans, party and mini-buses within the New York City – Boston – Albany triangle, specializing in weddings, proms, airport and cruise transfer, and all special occasions. Licensed by the states of MA and CT, as well as US Department of Transportation, it is proud of having its own in-house staff and a wide range of diverse clientele.
The company has also been a generous supporter of the Chicopee St. Patrick's Parade Committee. Colleen Contest Coordinator Brenda Guiel fondly acknowledged that Exclusive has provided transportation to the Colleen and Court to various events and on parade day for 10 years.
"Their expertise, professionalism, and attention to detail has made our young ladies feel like royalty, and we are so thankful to David and Exclusive Car Service for their dedication and continued service to our committee."
The sentiment is apparently mutual, as White affirmed:
"Our company, staff, and I enjoy working with the Parade Committee and other similar organizations supporting our youth and our future. I wish them all the best of luck."
---
2017 Colleen and Court
---
---
2016 Scholarship Award Recipients